Our practice encompasses the defence of virtually any criminal charge at the trial or appeal level, and a broad range of civil law services.
To learn how we can assist you, or if you are unsure whether your matter falls within our purview, please call us at 604-243-2619 for a free discussion. Due to our intimate size, our lawyers will personally work with you and provide value for their services. Our lawyers take pride in their work and we succeed on the strength of our reputation.
Whether you desire an efficient resolution or to be heard before the court, our lawyers will advance your interests.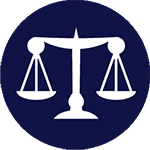 Criminal Defence Services
Common examples of charges we can defend you against include:
drug possession and trafficking;
firearms possession, trafficking, and misuse;
obstruction of justice and perjury;
assault and sexual assault;
robbery;
impaired and dangerous driving;
and appeals against conviction and sentencing.

Civil Law Services
Common examples of civil cases in which we can represent you include:
lawsuits against the police, prisons, and other government agencies;
and business and contractual disputes.